Hi, ! We want you to earn a lot and have fun in doing so! New users please read our FAQ.
Your Daily GT Earnings
Daily Loyalty Requirement
Green light – Your LPs are safe for today.
Red light – Up to 10 LPs will be lost.
Do any offer to make the light green!
Your Current Stats
| Description: | Your Amount: | Terms: |
| --- | --- | --- |
| Offerwall Loyalty Bonus | 0% | max 10% (200 LPs = 10%) |
| Faucet Loyalty Bonus | 0% | max 100% (200 LPs) |
| Referrals Total | | See Referral Page |
| Referral Earnings: | | |
Bonus Challenges – Tier 1
Tier 1 challenges require at least 10 LPs to claim.
Red light – Earn more LPs to unlock bonuses.
Description:
Bonus:
Progress:
Claim:
Within one server day, complete 4 offers over 2500 GTs (claim once per day)
400 GTs
0 of 4
N/A
Do 10 offers that are at least 10,000 GTs (no time limit)
3000 GTs
0 of 10
N/A
Complete at least one "Your Surveys" survey 7 days in a row
1500 GTs
0 of 7
N/A
Play some Pacman for 10 days in a row (cost 3 LPs per game)
200 GTs
0 of 10
N/A
Claim at least once from the faucet for 30 days in a row
300 GTs
0 of 30
N/A
More than an earning site, FaucetGamers wishes to be an inspirational crypto community. Part of that is doing our part to help out the world. We support different charities on a rotating basis. Anyone can donate simply fill out the form below here.
New charity site fundraiser has begun on November 1! Help protect animals from being abused.

100% of your donations will go to the Animal Welfare Institute, whose mission is to "to alleviate the suffering of animals caused by people". This charity has been rated A+ by Charitywatch.org, an independent charity review agency. 

Amount Pledged: 444677 GTs/GCs = $44.47
In our past charity effort, we raised $105.06 in support of Charity: Water. A mission to supply clean drinking water to all. Thank you so much anyone who contributed to that noble effort!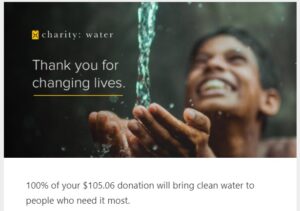 Time to new server day: 14 hr 27 min